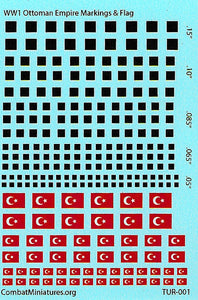 Combat Miniatures
WW1 Ottoman Empire Markings & Flags Water Slide Decal
Regular price
$5.50
$0.00
The Ottoman Empire used a variety of flags, especially as naval ensigns, during its history. The star and crescent came into use in the second half of the 18th century. A buyruldu (decree) from 1793 required that the ships of the Ottoman Navy were to use a red flag with the star and crescent in white. In 1844, a version of this flag, with a five-pointed star, was officially adopted as the Ottoman national flag. 
The Ottoman aviation squadrons began World War I under direct control of the Office of the Supreme Military Command (Başkomutanlık Vekâleti). Because of the cost of aircraft, it was a small unit. It would remain there for the duration of the war, never becoming a separate corps as in other World War I armies. Instead, it was parceled out in small detachments to an army or corps which directed the tactical use of the planes. Primitive logistics kept the units small.
Black Square was used 1914-1918.
Perfect Size to be used on Axis & Allies 1914 Aircraft, 1/700 Scale Aircraft and 1/285 Scale Micro Armour.
Sizes of Decals vary.  Email if you have questions.
---
Share this Product
---