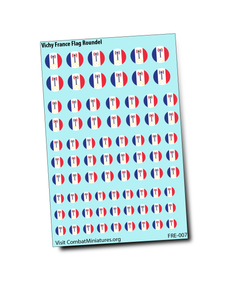 Combat Miniatures
Vichy French Roundel Flag Water Slide Decals
Regular price
$5.50
$0.00
Vichy France (French: Régime de Vichy; 10 July 1940 – 9 August 1944), officially the French State (l'État français), was the French rump state headed by Marshal Philippe Pétain during World War II. It was named after its seat of government, the city of Vichy. Officially independent, but with half of its territory occupied under the harsh terms of the 1940 armistice with Nazi Germany, it adopted a policy of collaboration
 Measurements of Roundels:  .25", .2", .175" and .15"
Quick Application Instructions
Cut out decal with sharp X-Acto blade. Place in clean water
for 5-10 seconds then remove. Slide decal off of backing and
onto model. Once in place, remove excess water and allow
decal to dry. Seal model and decal with gloss or flat coat finish.
---
Share this Product
---