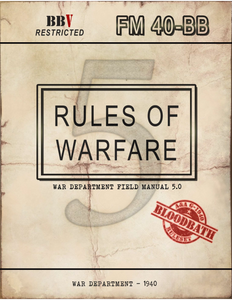 Combat Miniatures
Player Aids Download for "BBR V"
Regular price
$0.00
$0.00
The Bloodbath Ruleset, which have come to be known as the "BBR", was designed to speed up the game of Axis & Allies 1940 (G40).  Adding new elements with historical accuracy, and a round based system, G40 can easily be played in 8 hours or less.  Not only can you now play G40 in a day, the BBR offers more replay value with the round cap and point system.
Designed by Siredblood, who has played Axis and Allies on and off since the 1980's, wanted a version of G40 wich could be played in about 8 hours, and also have less predictable game outcomes.  By adding in new victory conditions and a solid ground for research and development, games are never the same.  
If you are looking for a change, I can guarantee the BBR will give you and your players a great gaming experience.
Contains:
Rule Book
Reference Cards
Set-up Charts

If you would like to purchase Printed Cards follow this link:
https://www.makeplayingcards.com/Search/search.aspx?searchType=AFBF963E2FE65A74&name=Axis+%26+Allies+Global+1940+BBR
---
Share this Product
BBR V
Really like this product.
---