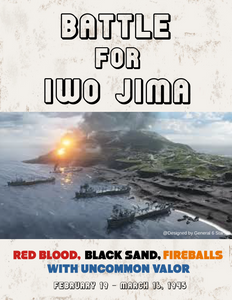 Combat Miniatures
Printed General 6 Stars "Battle for Iwo Jima" Rule Book
Regular price
$11.99
$0.00
Who Brought you Advanced Battle of the Bulge and Operation Overload, now is bringing you this awesome Pacific Theater Game "Battle for Iwo Jima"!
The Battle of Iwo Jima (19 February – 26 March 1945) was a major battle in which the United States Marine Corps (USMC) and United States Navy (USN) landed on and eventually captured the island of Iwo Jima from the Imperial Japanese Army (IJA) during World War II. The American invasion, designated Operation Detachment, had the purpose of capturing the island with its two airfields: South Field and Central Field. Good luck and enjoy the game !
Map Created by General 6 Stars /Arnold Ziffel. Will be printed on a 24"x30" 15oz Smooth Vinyl.
For Rules Clarification or Questions Please forward to Arnold Ziffel at freighttrains@earthlink.net

WARNING!  DOES NOT QUALIFY FOR FREE SHIPPING
---
Share this Product
---