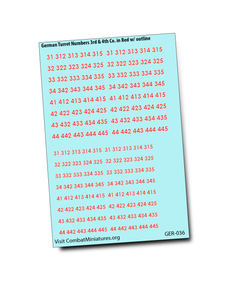 Combat Miniatures
German Turret Numbers in Red w/Outline Waterslide Decals (3rd-4th Companies)
Regular price
$5.50
$0.00
3rd & 4th Company:
2nd to 4th company followed the same turret number pattern as the one below.
(2) sizes of Turret Numbers in White with a Black Outline. 2" x 3. Card
7Pt size & 6Pt size: 

Perfect for customizing GHQ, Axis & Allies and many other Table Top War gaming miniatures.   Larger size is Perfect for 15mm Micro Armor and the Smaller perfect for 1/285 Micro Armor
Quick Application Instructions
Cut out decal with sharp X-Acto blade. Place in clean water
for 5-10 seconds then remove. Slide decal off of backing and
onto model. Once in place, remove excess water and allow
decal to dry. Seal model and decal with gloss or flat coat finish.
---
Share this Product
---