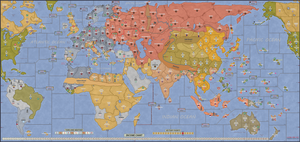 Combat Miniatures
General 6 Stars 1941 WW2 Game
Regular price
$99.00
$0.00
Who Brought you Advanced Battle of the Bulge and Operation Overload, now is bringing you this awesome 1941 WW2 Game!
The world's fate is in the allies hands now. You the allies must stop the axis evils from total
world domination ! The axis are at there peak strength and just attacked Pearl Harbor forcing the USA to enter the war. The allies need to plan and coordinate in unity and save the people.  Be ready to deal with the evils along with good and bad events, weather, combats, death,  destruction, morale issues and your allies mistakes ! But in the mean time try not to become an evil yourself while trying to save the world and its people. Good luck and enjoy the game !
2 Sizes to Choose From.  Map Created by  General 6 Stars /Arnold Ziffel. Will be printed on a 36"x72" or 48"x96" 15oz Smooth Vinyl.
Player Aids may be downloaded or purchased to be Printed.  Rule Book maybe purchased and be downloaded or printed.  
This Game is not Affiliated in Connection to Axis & Allies 1941 Avalon Hill.
For Rules Clarification or Questions Please forward to Arnold Ziffel at freighttrains@earthlink.net
WARNING!  DOES NOT QUALIFY FOR FREE SHIPPING
---
Share this Product
---