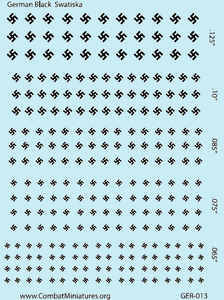 Combat Miniatures
1/300-1/600 WW2 German Black Swastika Water Slide Decals
Regular price
$5.50
$0.00
The swastika (as a character 卐 or 卍) is an ancient religious icon used in the Indian subcontinent, East Asia and Southeast Asia, where it has been and remains a sacred symbol of spiritual principles in Hinduism, Buddhism and Jainism.  In the Western world, it was historically a symbol of auspiciousness and good luck, but in the 1930's, it became the main feature of Nazi symbolism as an emblem of Aryan race identity, and as a result, it has become stigmatized in the West by association with ideas of racism, hatred, and mass murder.
(4) Sizes on one 2.5" x 3.3" Card.  .125", .10", .85", .075" & .065"
---
Share this Product
Wonderful!
Great little items, just what I need during these censorious times! Fast shipping and great service! Well done and thanks!
Nice assortment
Nice assortment of sizes but a couple additional sizes larger would be better for adding to flags on 1:350 ships that don't include them (e.g., the Revell Bismarck and all other German models).
Awsome waterslides!
Combat Miniatures is the go to place for a wide selection of water slides. Combat Miniatures is the only place I will shop for water slides from now on.
---