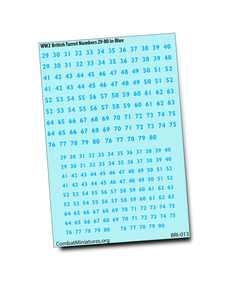 Combat Miniatures
1/300-1/600 British Turret Numbers 29-81 in Blue
Regular price
$5.50
$0.00
The use of markings on British military vehicles expanded and became more sophisticated following the mass production and mechanization of armies in World War II.
Unit marks were sometimes amended at the front to make them less visible when in view of the enemy. Certain other marks were however made more visible in front line areas, such as aerial recognition signs to avoid friendly fire.
There are practical purposes behind most signs such as; allied identification, bridge weight, gas detection, tactical signs, vehicle War Department number and convoy marks. Attempts were made to standardize the size, color and location of marks, with varying degrees of success.
Quick Application Instructions
Cut out decal with sharp X-Acto blade. Place in clean water
for 5-10 seconds then remove. Slide decal off of backing and
onto model. Once in place, remove excess water and allow
decal to dry. Seal model and decal with gloss or flat coat finish.
---
Share this Product
---