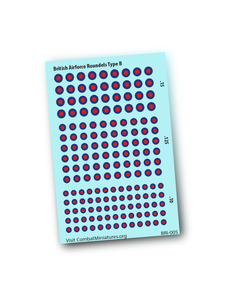 Combat Miniatures
1/285 British Roundel Type B Water Slide Decals
Regular price
$5.50
$0.00
The air forces of the United Kingdom – the Royal Navy's Fleet Air Arm, the Army's Army Air Corps and the Royal Air Force use a roundel, a circular identification mark, painted on aircraft to identify them to other aircraft and ground forces. In one form or another, it has been used on British military aircraft from 1915 to the present.
Used on camouflaged aircraft in all positions from Summer 1938 until superseded by Type A.1 roundels. Used on upper surfaces of many aircraft until 1947. On fuselage sides and upper wings of overall PRU blue photo-reconnaissance aircraft 1940 – 1944
(3) Sizes of Roundels on (1) Card
Quick Application Instructions
Cut out decal with sharp X-Acto blade. Place in clean water
for 5-10 seconds then remove. Slide decal off of backing and
onto model. Once in place, remove excess water and allow
decal to dry. Seal model and decal with gloss or flat coat finish.

---
Share this Product
British Roundels
Too dark, no yellow to them at all. Decals should remain clearly recognizable even on a black background.
---