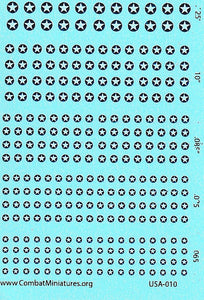 Combat Miniatures
1/285-1/600 US Star Aircraft Roundel (Blue & White Only)
Regular price
$5.50
$0.00
The first military aviation insignias of the United States include a star used by the US Army Signal Corps Aviation Section, seen during the Pancho Villa punitive expedition, just over a year before American involvement in World War I began. The star was painted only on the vertical tail, in either red (the most often used color)[1] or blue (less likely, due to the strictly orthochromatic photography of that era, rendering the red star as a black one in period photos).  At the same time, the US Navy was using a blue anchor on the rudders of its seaplanes.
Used from May 1942 to June 1943, the Insignia Red Dot was removed to avoid confusion with the Japanese Hinomaru Roudnel
(5) Sizes on (1) Card. 1/285, 1/300 & 1/600 sizes
Perfect for Customizing units for Axis & Allies, Micro Armor, Flames of War and other Table Top War Gaming.
---
Share this Product
---