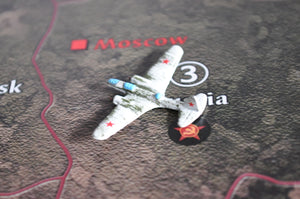 Combat Miniatures
Custom Painted Russian Medium Bomber
Regular price
$2.50
$0.00
The Ilyushin Il-4 (Cyrillic Илью́шин Ил-4, NATO reporting name: "Bob"[1]) was a Soviet World War II bomber aircraft, widely used by the Soviet Air Force
Manufactured from Historical Board Gaming and used for Global 1936, Global 1939, Axis & Allies and many other Table Top War Game.
Each Bomber is handed painted and unique.  No (2) Units will be the exact same.
Winter Camo Scheme, Decaled with Clear Coat
Large Quantity Orders of Custom Painted Units may delay shipping.
---
Share this Product
---