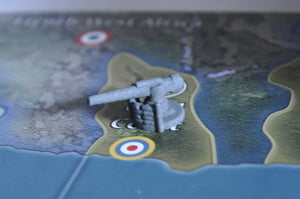 Combat Miniatures
Singapore Coastal Artillary
Regular price
$1.49
$0.00
Singapore was defended by its famous large-caliber coastal guns, which included one battery of three 15-inch (381 mm) guns and one with two 15-inch (381 mm) guns. Prime Minister Winston Churchill nicknamed the garrison as "The Gibraltar of the East" and the "Lion of the Sea". The coastal guns were supplied mostly with armor-piercing (AP) shells and few high explosive (HE) shells. AP shells were designed to penetrate the hulls of heavily armored warships and were ineffective against personnel.
3D Units are printed in a Gray Resin Material.  3D printing using the DL Process. 
Note:  Bunkers & Structures will NOT be delivered custom painted.  
Cm:1.302 x / 2.284 y / 0.988 z
---
Share this Product
Nice
lm going to enjoy using this
---