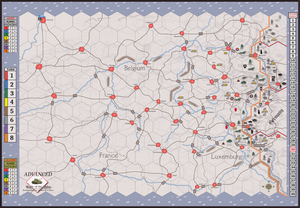 Combat Miniatures
Advanced Battle of the Bulge
Regular price
$49.00
$0.00
The Battle of the Bulge, also known as the Ardennes Offensive, was the last major German offensive campaign on the Western Front during World War II. The battle lasted from 16 December 1944 to 28 January 1945, towards the end of the war in Europe. It was launched through the densely forested Ardennes region between Belgium and Luxembourg.
Map Created by Imperious Leader and approved Re-designed by General 6/Arnold Ziffel. Will be printed on a 40" x 28" 15oz Smooth Vinyl.
Player Aids may be downloaded or purchased to be Printed.  Rule Book maybe purchased and be downloaded or printed.  
This Game is not Affiliated in Connection to Battle of the Bulge From Avalon Hill.
For Rules Clarification or Questions Please forward to Arnold Ziffel at freighttrains@earthlink.net
WARNING!  DOES NOT QUALIFY FOR FREE SHIPPING.
---
Share this Product
---