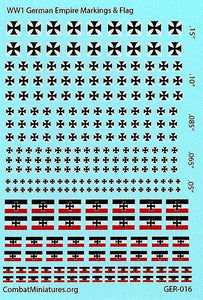 Combat Miniatures
1/600 WW1 German Empire Markings & Flag Water Slide Decal
Regular price
$5.50
$0.00
Following the dissolution of the German Confederation, Prussia formed its unofficial successor, the North German Confederation, in 1866 with the signing of the Confederation Treaty in August 1866 and then the ratification of the Constitution of 1867. This national state consisted of Prussia, the largest member state, and 21 other north German states.
Markings are the Balken Cross used in World War 1 on German Aircraft.
Perfect for Customizing 1/285 Scale Micro Armor, 1/700 Scale Aircraft and Units used in the Popular Axis & Allies 1914 Board Game and its many variants.
---
Share this Product
---