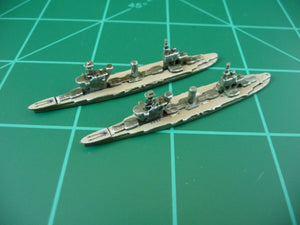 Combat Miniatures
Custom Painted Russian Battleship By Military Miniatures (x2)
Regular price
$11.99
$0.00
All game pieces undergo a rigorous painting process. First any excess flashing & burrs are trimmed and smoothed by hand. Magnet holes are drilled and magnets are glued into place for carriers and aircraft. Then every piece gets an overnight soap bath to remove oil residue and soil before any primer or base paint is applied. Next, washes and highlights are applied to bring out the fine details of the sculpt. Custom decals are added, if required, and coated with a decal setting solution for superior adherence. And finally, a matte clear coat finish is applied to produce a uniform, non-reflective sheen and for better handling durability  
Out of Box Russian Battleship from Axis & Allies Pacific 1940 Board Game.  Sold in Sets of Two.
Shipped direct from Greg.    
---
Share this Product
USSR and the navy that wants to be
The head of our monastic community is playing with the Soviets. He is currently bogged down fending off the homeland, but he really wants to sail a battleship now. They are so happy that we are making this board something future monks will see the time put in this and the prayers to Christ for the people who helped us get them and who made them.
---